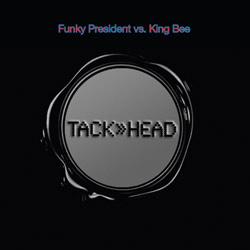 TACK>>HEAD - Funky President vs. KING BEE

TACK>>HEAD are some of the most acclaimed, incendiary sounding acts on planet earth. Their vision of being the "Funk-Body-Dub" act for the next century is more and more coming through. Its Tackhead´s vibrant sound clash of industrialized Dub power with the spirit of Funkadelic, Black Ark, Living Colour and On U Sound . and their feeling for pop flavored epic melodies with a cosmic vibe: Today they are considered as an outstanding and stunning act in the recent music history.
TACK>>HEAD - Funky President vs. King Bee: download here >>
Dude Records DR108

TACK>>HEAD - Funky President vs. KING BEE
Dude Records DR108
(digital download 12 Tracks)
Release date: October 2012
Since 1985 the group is a phenomenal measurement and their collaborating artists list is a "who is who" in the cream of hot spots: Rolling Stones, Seal. Living Colour, Nine Inch Nails, Charlie Watts, Tina Turner, Peter Gabriel, Mos Def, George Clinton, Depeche Mode, African Bambaata, Tommy Boy label, Sugarhill Gang records. etc. !
The return of the living legend. Mighty Tack>>Head´s first new studio recordings after 22 years. A taster from the upcoming full length abum (to be released in 2013) !
Their new creation of beauty is supersonic flash! JAMES BROWN´s "Funky President" meets SLIM HARPO´s "King Bee" plus the bonus EXODUS by Bob Marley and David Bowie`s "I m Afraid Of Americans".! Special Guest at the end Tackhead´s "Stealing" in an completely unreleased edit.! What a selection and what coincidence that those titles are going to meet each other.! Quality control tracks as a further proof that TACK>>HEAD is ride on the edge.!
Tracklist:
01. Funky President (Adrian Sherwood Remix)
02. Funky President (Gary Clail Remix)
03. KING BEE (Wohlklang Remix)
04. KING BEE (Adrian Sherwood´s Share>>Head Remix)
05. KING BEE (Bee Guitar Wohlklang Remix)
06. KING BEE (Adrian Sherwood´s Share>>Head Dub Remix)
07. I´m Afraid Of Americans
08. Exodus (Dubvisionist Remix)
09. Exodus (Dubvisionist Dub Remix)
10. Exodus (Dubvisionist Extended Remix)
11. Exodus (Dubvisionist Spacedub Remix)
12. Stealing (Reverend Extended Mix)