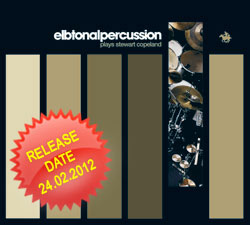 ELBTONALPERCUSSION - "plays Stewart Copeland"

The sixth album of the Hamburg drum ensemble ElbtonalPercussion pays tribute to the music of one of the world's most influential drummers, and it is at the same time a journey of discovery into rhythm and sound.
Dude Records DR107

ELBTONALPERCUSSION - "plays Stewart Copeland"
Dude Records DR107
(CD 16 Tracks - 64 minutes playing time)
(digital download 19 Tracks - 73 minutes playing time)
Release date: 24.02.2012
At the end of the 1970s Stewart Copeland, Andy Summers and Sting developed their very own version of Jamaican reggae. Choosing to call themselves The Police of all things (!), they went on to compose several dozen pop hits which melded Caribbean offbeats with the nervous energy of suburban punk. The result was, as they realised themselves, white reggae or, in Esperanto: Regatta de blanc. The rest is history, and history went on to give them one highly success pop career and two careers dedicated more to artistic integrity than visibility. The musicians of ElbtonalPercussion have created a musical, tonal monument to one of these careers.
Stewart Copeland was the conceptual father of The Police and, until the band split, he was their rhythmic architect. His beats floated freely above the backbeat, freer than was customary in rock music (possibly due to the fact that he learned to play the drums in the Middle East, where the Copeland family lived when he was a child and teenager). It was also largely due to Copeland that the band deciphered the Jamaican one drop, bringing it to thousands of dancers who had never previously heard the name Bob Marley, let alone knew where the "one" was in his riddims.
Copeland's musical life after The Police began with the proverbial thunderbolt: while working on the final Police album, Synchronicity, Copeland recorded the soundtrack for Francis Ford Coppola's film Rumble Fish, a furious thunderstorm of drums that created an atmosphere of almost painful tension - abstract rock'n'roll with no guitar or bass. The soundtrack won him a Golden Globe nomination and he went on to collaborate on several fascinating film projects: from Oliver Stone's Wall Street to 9 1/2 Weeks and Highlander. In between he found bass sparring partners for a diverse range of band projects, including Animal Logic (with Stanley Clarke) or Oysterhead (with Les Claypool / Primus). Of all the solo albums which Copeland recorded released - initially under the modest name Klark Kent - one stands out in particular: The Rhythmatist, a documentation of his voyage of pilgrimage through Africa, an album that stands at the top of its world/fusion class along with Eno/Byrne's My Life In The Bush Of Ghosts and Peter Gabriel's Last Temptation of Christ. Like Eno and Gabriel (on whose album So he played a small, but important part) Copeland also became interested in the possibilities of digital sound synthesis, and the combination of percussion and electronic sounds runs through his work like a leitmotif.
All this makes his work ideally suited to be embraced and interpreted by the musicians of ElbtonalPercussion. The band was founded almost a decade ago by four drummers - true rhythmatists who brought their individual biographic backgrounds in film music, pop production, teaching and - naturally - drumming into this joint project. In Elbtonal drums play the leading role; a division of labour that is perfectly natural in other cultures, but which is the exception here, apart from New Music. All other instruments are featured as supporting instruments or explicitly as guest instruments. In fact, ElbtonalPercussion are dedicated team workers, both within and outside the percussive section. The band has, for instance, cooperated with design icon Peter Schmidt, John Neumeier's Hamburg Ballet, the organist and composer Claus Bantzer, marimba virtuoso Keiko Abe, trumpeter Matthias Höfs, spoken word artist Christian Brückner and percussionist Trilok Gurtu. On their album Four Elements (ACT) listeners will find string ensemble G-String, the singer Helga Pappert (Moonbootica), and guest vibraphone player Christopher Dell. It is also quite audible that all four musicians - like Stewart Copeland himself - love exploring electronic sounds and love using this constantly evolving technology in subtle ways in their pieces. But however fascinating this specific field, their main focus remains drums and percussion: the band uses around 150 different drums live and in the studio, ranging from African hand drums to giant Japanese drums.
To date, ElbtonalPercussion has released two albums on the jazz label ACT and two on Arte Nova Classics, as well as a thrilling live CD/DVD In Concert and the band have collaborated on several soundtracks, including Doris Dörrie's Drama Kirschblüten-Hanami, the Baader-Meinhof-Komplex by Bernd Eichinger and Christian Alvard's science-fiction thriller Pandorum. In addition to these collaborations, the band has been invited to perform at countless international festivals (including the Schleswig-Holstein Music Festival, JazzBaltica & NCPA Percussion Festival Peking).
Following ElbtonalPercussion's highly acclaimed collaboration with Stewart Copeland for the spectacular live show Ben Hur, the band has devoted their sixth album, ElbtonalPercussion plays Stewart Copeland, in its entirety to the man and his music. the four musicians have chosen a representative selection of Copeland's different works and periods as the source of inspiration for the pieces featured on this album; the tracks range from rhythmically complex Police hits, such as Contact, to his soundtrack compositions for Wall Street and Rumble Fish, from the Rhythmatist album to the compositions for ensemble musicians featured on Orchestralli. The songs Dog Dreams and Dance Ants were specially written by Stewart Copeland for ElbtonalPercussion and were premiered at the Tromp-Percussion Festival in Eindhoven. The ensemble's expressive spectrum ranges from thumping, driving, floor-friendly numbers (Tulsa Tango, The Mud Lions) to the most delicate sound collages (Wallstret, Regret). And in every single piece the drums - with their incredible colours and facet, act as the beating heart of the music.
An exciting project that sits squarely between orchestral and popular music!
"The excellent ElbtonalPercussion has completed an album of their arrangements of my material. It's fairly obscure soundtrack stuff and it's pretty cool - I'm really enjoying this! These tracks are terrific." Stewart Copeland (DRUMMER Magazine 2011)
Tracklist:
1. Dance Ants (Mikrokosmos)
2. Trading Begins (Soundtrack Wallstreet)
3. Slither (Orchestralli)
4. Regret (Soundtrack Metropolis)
5. The Mud Lions (Soundtrack The Leopard Son)
6. The Other Way Of Stopping (Part 1) (The Police - Zenyatta Mondatta)
7. Wallstreet End Title Theme (Soundtrack Wallstreet)
8. The Gene Pool* (Orchestralli)
9. Bill Is Dead / Are You With Me ? (Soundtrack The Pallbearer Main Theme & Wallstreet)
10. Father On The Stairs (Soundtrack Rumble Fish)
11. Dog Dreams** (Mikrokosmos)
12. Gong Rock (The Rhythmatist)
13. The Other Way Of Stopping (Part 2) (The Police - Zenyatta Mondatta)
14. West Tulsa Story (Soundtrack Rumble Fish)
15. Contact (The Police-Regatta de Blanc)
16. Tulsa Tango (Soundtrack Rumble Fish)

Digital Download Bonus

17. Tulsa Tango (Hakan Lidbo Remix)
18. Gong Rock (Umberto Echo Dub Remix)
19. Wall Street End Title Theme (X.A. Cute Dubstep Remix)

Special Guests:

*Benny Greb - Drums , **Marcio Doctor - Percussion

ElbtonalPercussion are:

Stephan Krause
Andrej Kauffmann
Jan-Frederick Behrend
Wolfgang Rummel