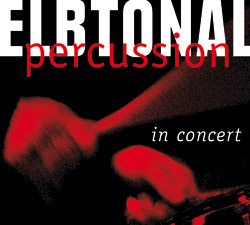 ELBTONALPERCUSSION - In Concert

"Percussion is an art - and this band features 4 master artists" (Hamburger Abendblatt)
After more than 10 successful years with numerous CD releases (BMG+ACT Music), concerts at major festivals, such as the Schleswig-Holstein Music Festival and JazzBaltica, projects with a wide range of artists, including the percussionist Trilok Gurtu and the drummer Stewart Copeland (The Police), and collaborations on scores for big films ('Hanami-Kirschblüten' / Dorris Doerrie, 'Der Baader-Meinhoff-Komplex' / Bernd Eichinger), the Hamburg-based ensemble Elbtonal Percussion are now releasing their first live DVD/CD entitled 'In Concert'.
Dude Records DR106

ELBTONALPERCUSSION - In Concert
Dude Records DR106
(CD 11 Tracks - 64 minutes playing time)
(DVD13 Tracks - 85 minutes playing time)
Thanks to the outstanding work of the Hamburg film production company 'cut4u' and the sound engineer Ulrich Holst ('wachtmann-musikproduktion'), the band's new release is a high-quality live recording of their current set, with numerous classic drum pieces and many of their own compositions. Embedded in an incredible bank of sparkling drums, cymbals, bells, marimbas and vibraphones, gongs and Japanese barrel drums, the Hamburg band present a show that sparkles with passion and dynamism, crossing over from classical music to new music, rock, jazz and drum'n'bass with effortless ease.
ElbtonalPercussion - In Concert: Breathtakingly virtuoso sounds combined with the magnificent atmosphere of a truly outstanding concert: an impressive work of art.
What the press said about ElbtonalPercussion:
"Intoxicating music" (Der Spiegel)
"...poetic highlights of an intoxicating performance!" (Die Welt)
"Intricate songs performed with incredible precision, sounds that glow in a rainbow of colours" (Hamburger Morgenpost)
"Bombastic proof that ElbtonalPercussion is one of the leading drum and percussion ensembles in the music world." (Westdeutsche Zeitung)
"An incredible and unusual experience: when did you ever see anything like this on a theatre stage? An audience of over 400, including many older music fans, brought down the Stadthalle with frenetic bravos and wild applause including foot-stamping that went on for minutes on end" (Holsteiner Courier)
"Music of a breath-taking, crystalline virtuosity." (Concerto)
ElbtonalPercussion are:

Wolfgang Rummel
Stephan Krause
Andrej Kauffmann
Jan-Frederick Behrend